Few places in Auckland can claim as dramatic a Cinderella story as Freemans Bay.
In a past life, it was home to lower-class workers and rebels and the gritty grindstone for Auckland's early industries. Now it is one of the city's most affluent areas, with commercial and residential spaces rubbing shoulders, and rather fewer rebels – unless it's a crime to think outside the box.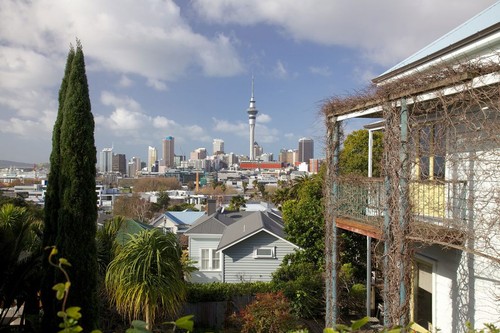 In Freemans Bay stylish homes nestle among a thriving hub of unique and interesting businesses. This inner-city suburb joins the CBD, Ponsonby, Wynyard Quarter and the Viaduct, but it still maintains a sense of wonder and craft, a nod to the past in a way only a small and creative area can.
Freemans Bay Parks
Today, the glorious green space of Victoria Park is well utilised. There are sports events, sports groups, exercise bootcamps, joggers and strollers, as well as spectators enjoying the various activities from the comfort of a park bench. Magnificent London plane trees, planted at its opening, line the park. In addition to the sports oval, the park has a popular skatepark, petanque court, children's playground and cricket nets.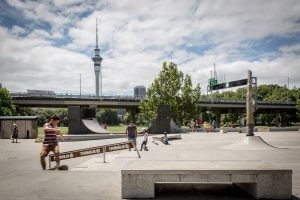 Dining options in Freemans Bay
Foodies and coffee fiends are spoilt for choice in Freemans Bay. It's tempting to pop into Queenies Lunch Room for the Turkish eggs, or to order one of the single-origin coffee options from Caffetteria Allpress on Drake Street. Sweat Shop Brew Kitchen promises a great vibe for afternoon drinks in the sun, and Drake Street's unassuming streetscape and large wooden doors open up to an array of popular bars and restaurants such as La Zeppa boasting outdoor seating.
Victoria Park Market has the makings of a bustling village with delightful eateries for any taste. Choose between Vietnamese, Indian, Japanese, Indonesian or bistro-style, topped off with gelato for dessert. And a word for activewear fans – Nike Platinum has pride of place in the market. The latest season's gear is well framed by Victoria Park's signature industrial loft-style décor.
Rounding out the hospitality options – City Works Depot is a hop, skip and a jump away. Other amazing spots like Odettes Eatery, Best Ugly Bagels and Food Truck Garage further extend your choices.
So, rebels, foodies and Cinderellas, unite in this great little suburb. While Freemans Bay may have lost the ocean, today it is a confident, yet quiet, over-achiever with a savvy and cultured soul.
Architecture
Housing in Freemans Bay is a treat, with something for every desire – whether you're after a grand home, compact apartment, townhouse or loft. Franklin Road, one of Auckland's most desirable and iconic streets, features many beautiful old homes, for example, McGregor House at 2 Franklin Road, and Sinclair House at number 68 – notable for its 19th century brickwork with verandas. There is also the distinctive Turret House at 4 Anglesea Street. At Christmas, Franklin Road residents transform their homes with grand lighting displays, and Aucklanders from near and far come to enjoy the festive spirit.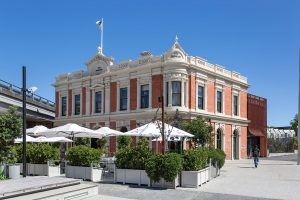 One of the oldest establishments in Freemans Bay is The Birdcage Tavern, named the Rob Roy Hotel when it was built in 1885-1886 on the original quayside. Today, it is a designated heritage building, recognised for its cultural significance by the Auckland City Council and the New Zealand Historic Places Trust. Other buildings with heritage value include the Victoria Park Market buildings, the former Auckland Gas Company buildings in Beaumont Street and the former Campbell Free Kindergarten in the park.
History
Despite its current land-locked location, the name denotes its beginnings as a bay. The original cliff line ran along where Drake Street is now. Clues are visible in the Victoria Park market complex where there's a large coastal Pohutukawa tree. To further prove the point, pre-European Māori named the area 'The Reflecting Waters'. Two streams in particular provided an abundant natural resource. The Waikuta ('waters of the reed') met the bay at the foot of College Hill, and the Tunamau ('to catch eels') at Franklin Road.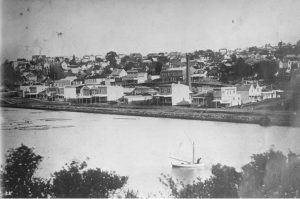 Looking east from Beaumont Street showing Freemans Bay and reclaimed land. Early 1900's. Sir George Grey Special Collections, Auckland Libraries.
The origin of the English name 'Freemans Bay' is disputed. It either acknowledged the free settlers or refers to James Stuart Freeman, one of Governor Hobson's officials. Despite major reclamation of land in the area, the name stuck. We've been left to imagine what a sandy back doorstep would have been like ever since.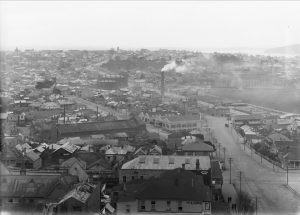 Looking west from St Matthews Church tower across Freemans Bay towards Ponsonby, 1921. Sir George Grey Special Collections, Auckland Libraries
Early working class suburb
Europeans picked Freemans Bay as early as the 1840s for development and land reclamation. Despite their enthusiasm and the hurried settlement, the area was relegated to the working classes. It heaved with industrial enterprise and, because of the noise and smell, was deemed to be the "wrong side" of Queen Street. It was home to ship builders, sawmills, a brass and iron foundry, glass and asphalt works, coal and lime dealers and an abattoir. There were also several public facilities like the city morgue, the Auckland Gas Company and a "night soil" dump. Despite Victoria Park Market's current charm, the Edwardian-style industrial brick buildings housed the city rubbish depot from 1905, complete with an incinerator known as the 'Destructor'.
Looking south along Victoria Street West, showing the Auckland City Council depot, showing the destructor chimney,1921. Sir George Grey Special Collections, Auckland Libraries.
As close as Auckland got to a slum
Local workers lived nearby in tiny, poorly constructed cottages with dirt floors, all tightly packed together. The area was as close as Auckland got to a slum, made worse by the great depression in 1930. It had a reputation for crime, prostitution, civil unrest, and – horrors – union activity. To compensate for the living conditions, the powers that be opened Victoria Park in 1905 on the first land reclaimed from the bay, providing the workers with green space and respite from their tiny hovels. Rest assured, Franklin Road was considered more upper class, with larger homes built as boarding houses for workers.
1950's was time of change
Change began in the 1950s when the council and government replaced some of the run-down cottages. The construction of the motorway in 1955 sped up the demolition of large areas in the name of progress. More new flats and townhouses were built during the 1960s and 1970s. It wasn't until the 1980s and 1990s that wealthy Aucklanders realised the area's ideal geographical location – and swift and enthusiastic gentrification began. This mirrored the activity in neighbouring suburbs Ponsonby and St Marys Bay – where the remaining Victorian villas were snapped up and renovated to fashionable and modern glory.