Herne Bay is one of New Zealand's most affluent and prestigious suburbs, a title going back to the first European settlers. The suburb is anything but ordinary and was the first in the country to have a $2 million median house value. It is a highly sought after investment, paid off by the bay's unparalleled mix of lifestyle, convenience and stunning views.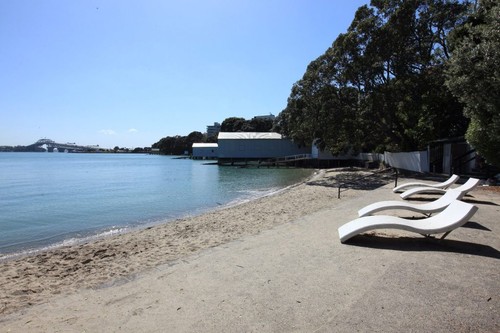 But first let's step back in time before house auctions were invented. While we can only speculate whether Pre-European Maori appreciated the panorama, they definitely valued Herne Bay's practical assets. The area was part of a nifty network of gardening and fishing sites set up across the city. These were routinely tended and harvested in rotation with the rhythms of the soil, sea and moon. As part of this, flax for clothing and tools was collected from around Cox's Bay and dried on the north facing slopes above Herne Bay.
Cox's Bay reserve
Cox's Bay is enjoyed by Herne Bay and neighbouring Westmere locals today, and the sea-edge is protected by the city council's Cliffline Tree Amenity Area policy in the District Plan. This recognises the importance of preserving the trees along the original cliff and shoreline, particularly natives. For example, coastal pohutukawa which are iconic features of the city's coastal terrain.
Herne bay's history
We now turn our focus to the arrival of the first European settlers, who quickly noted the area's beauty. Fittingly, they gave it the same name as a popular and respectable seaside resort in Kent, England. Wealthy migrants established themselves in Herne Bay with gracious homes that began a tradition of elegance that continues today. The sea not only provided great views but convenient passage to town by boat. In some cases, residents didn't even bother with land access and instead made private jetties and boathouses to get them to town. These original homes were called 'marine villas' and some still stand today, though subdivision has inevitably encroached the sweeping gardens.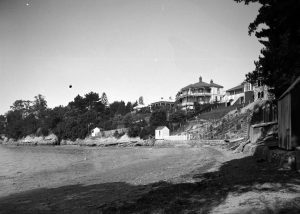 Looking along the beach at sentinel road bay showing boat sheds and houses on Sarsfield Street, Herne Bay
The area drew many tourists during the 1860's. A particularly fashionable spot was Kemp's Gardens. Located between Argyle Street and the ocean, the garden was described as a pleasure resort. It boasted a dancing pavilion, "ten acres of walks and sports grounds", drinks, music and "illuminations" for classy punters to enjoy. It was later renamed "Cremorne Gardens" after a similar site in London. Although closed, the memory lives on in the local street named Crenmore.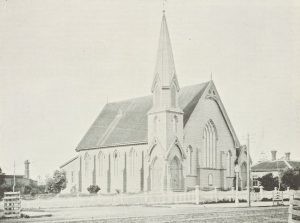 St Stephens Presbyterian Church Ponsonby – Sir George Grey special collection Auckland libraries
Modern-day Herne Bay
Modern-day Herne Bay has several buildings of note. The wooden, classical style Baptist Church at 43 Jervois Road is home to one of the oldest (perhaps THE oldest) organs in Australasia. The organ has a royal heritage to match, originally given to St Paul's Church by Queen Victoria. Another heritage, gothic style wooden church is St Stephen's Presbyterian Church at the corner of Jervois Road and Shelly Beach Road.
Shelly Beach Road architecture
The mansion at number 4 Shelly Beach Road is an example of Edwardian style architecture with an impressive turret roof. The area also has modern "landmarks". In particular are two apartment complexes referred to as the Herne Bay towers. Built in the 1980's, the luxurious Shangri-la Apartments and Westwater Apartments are the only high-rises in the area.
The suburb of extensive harbour views
Whether a modern or heritage home dweller, Herne Bay sets the standard for prime living locations. Residents enjoy the convenience of sitting at the edge of the CBD, while basking in the glorious views of the Waitamata Harbour and Auckland Harbour Bridge. The daily commute is simple. Herne Bay has straightforward access to the motorways and frequent buses running along Jervois Road.
Renovations of all the old villas
There are a variety of housing options, but the most common type of home is the villa. This style was the default build during early development, only to lose popularity after WW1. As with most inner suburbs in Auckland, 1980's buyers rekindled the villa love-affair. Herne Bay villas were snapped up, renovated and kitted out with every modern amenity desired. Current buyers are hard-pressed to find a villa needing a full renovation in Herne Bay.
Here is some local gossip from 1999 which further highlights the area's desirability. The Sultan of Brunei purchased 11 Herne Bay properties for his visit to the Auckland APEC Summit. Despite extensive renovations, the story goes that the Sultan didn't end up living in any of them and they were sold to a local buyer in 2005.
Excellent local schooling
There are excellent schools in the area to choose from. Ponsonby Primary School is situated in Herne Bay and was established in 1873. There is also Marist Catholic School, Richmond Road School, Bayfield School. Local secondary schools include Auckland Girls Grammar School, Western Springs College (Coed), St Paul's College (Catholic boys) and Saint Mary's College (Catholic girls).
Jervois Road shops
Boutique shops along Jervois Road promise to impress and delight. Unique must-sees include Father Rabbit and Tessuti for luxurious curated homewares and gifts. For one-of-a-kind rugs, lighting and furniture design check out The Ivy House and Simon James Concept Store. The creators of homeware brand French Country Collections have a store here also, named un deux trois.
The best of fashion retail (figuratively) begins with Kathryn Wilson, Sills + Co, Goodness and continues on down Jervois Road.
Herne Bay is a key area for fine dining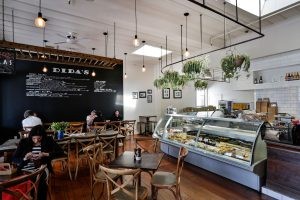 With all the shopping complete, Herne Bay is a popular destination for wining and dining at any time of day. Trending with interior design aficionados and hip-kids alike is Dear Jervois. The menu is sure to surprise and please whether your diet is vegan, paleo or strictly waffles. Adiamo has stood the test of time, and is a welcome suggestion for fine food, day or night. The reputation of the wine selection and cocktails precede them, set off by the New York style long bar. Head to Empress Garden Restaurant for great Peking duck (ensure to order in advance) and Janken for a cosy and intimate Japanese meal. Casual drinking establishments include Dida's and The Elbow Room, or Herne Bay Cellars to enjoy a drop at home. Being near the sea, it's only appropriate that the majority of the local takeaways are fish 'n' chip shops, exemplified by FishSmith. Along with the freshest version of the classics, they've introduced a new take with fried halouni or calamari burgers, spiced fish tacos, and crumbed haloumi.
Easy access to other Auckland suburbs
Besides eating, there is plenty to see and do in the local vicinicty. This includes the happenings and sights of Ponsonby, Westhaven Marina, Victoria Park, Britomart, the Viaduct Harbour and Bayfield Park.
Secret coves and beaches
Water plays a starring role in Herne Bay. Secret coves and beaches dot the shore, and patches of golden sand are at a premium for sunbathers on fine days. From personal experience – the weathered boathouses and wharfs of Sentinel Road Beach are a picturesque background to wedding photos. The boathouses stand at one with the land and the sea, serving as striking scenic reminders of the suburb's beginnings.
Where to go for summer fun
Point Erin Pool is the perfect hangout during summer months on Shelly Beach Road. Kids and adults alike will love the large main pool, dive pool, family spa pool, playground, toddler pool, barbecue area, basketball court and café. Add to this heaps of fun events like bombing and basketball competitions, family fun days and you have an all-round summer hotspot.
Herne Bay, Queen of the Waitamata
There ends the stately tour of Herne Bay, Queen of the Waitamata. She has a proud and gracious history, while still allowing nimble and agile movement between suburbs and the CBD. The suburb has proven its place in the pecking order and is sure to delight any new visitor into understanding why.
Things to do, Places to see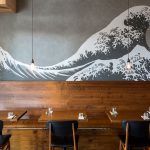 Janken
Taking its name from the game 'paper, scissors, rock', Janken's philosophy is sourcing organic and free-range produce to create Japanese cuisine with a distinct twist.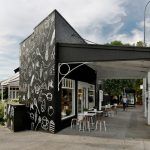 Jess' Underground Kitchen
Serving up home cooking at its best – ready-to-heat meals, baking, seasonal salads and cabinet food, artisan deli goods and, of course, excellent coffee.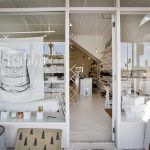 Father Rabbit
Father Rabbit offers a carefully curated selection of beautiful homewares, kitchen products, storage, gifts and bed linen.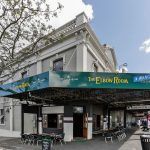 The Elbow Room
Featuring ornate ceiling panels on the walls, plush drapes and discreet lighting this is a bar with old world charm. There's covered footpath seating as well and heaters to keep the evening chill at bay.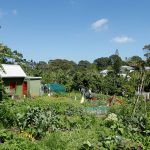 Kelmarna Gardens
Kelmarna Gardens is a city farm and organic community garden dedicated to building a healthy community and environment and promoting sustainable living.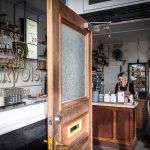 Dear Jervois
Dear Jervois is Herne Bay's darling. Whether it's a Best Ugly Bagel or a tofu croquette you're after, you won't be disappointed.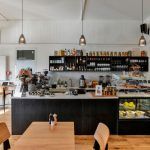 The Governor
With a minimalist approach to crafting simply great food through the use of fresh, organic, locally sourced produce, the Governor is a home away from home.