There's always something happening in Ponsonby. Pop-up shops, restaurants and bars add to the excitement and draw the crowds.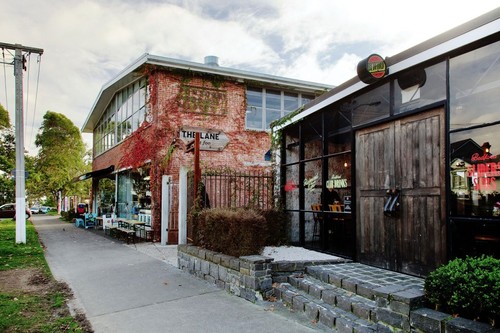 Ponsonby Auckland celebrates events in style
The annual Auckland Pride Parade proudly celebrates the suburb's vibrant Rainbow /LGBT community. Come Christmas, Franklin Road draws admiring crowds from far and wide, as residents enthusiastically decorate their homes with the most spectacular lighting displays to kick off the festive season. Every week, there are a host of community events and classes. Live drawing, meditation, yoga, singing, open mic, dating, drama, jewellery – the list goes on.
Fine diners are spoilt for choice. The list begins with Orphans Kitchen, Sidart,SPQR, and Miss Moonshine's. Casual dining favourites include Boy & Bird, and Freeman & Grey.
Ponsonby Central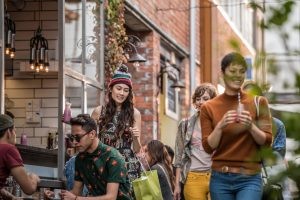 One element that sets Ponsonby apart and emulates the suburb's confident style is Ponsonby Central, owned by prolific property developer Andy Davies. The complex has been transformed from a warehouse to an exceptional, world-class showcase of local organic produce, hospitality and homewares. Mindfully styled to give a rustic industrial feel, exposed brickwork, chandeliers and old sprinkler pipes as balustrades create an ambience to set off the bustling and fashionable crowds. Delectable dining and watering hole options here include Burger Burger, The Blue Breeze Inn and Bedford Soda & Liquor.
Ponsonby locals are passionate about health and wellbeing. There are many options for massages, spa treatments and acupuncture. Keep up the healthy theme with the full raw foods menu at Little Bird Unbakery.
Shopping is plentiful in Ponsonby
Fashion boutiques make window shopping a pleasure. Or step inside and enjoy the best of New Zealand design including Kate Sylvester, Juliette Hogan, Ruby and WORLD. Visit stores such as Superette and A Little Shop, or designer second-hand shop Tatty's. There are bookstores aplenty too – the Dorothy Butler Children's Bookshop, The Women's Bookshop and mag nation to set you on your way.
Enjoy time out in one of the many parks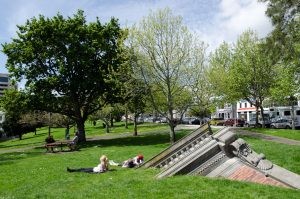 Ponsonby has plenty of park life to enjoy. Western Park off Ponsonby Road has off-leash dog exercise areas, picnic tables, a playground and flying fox. Take time to notice the sculptures, including three pieces by John Radford, resembling ancient sunken ruins of old Auckland buildings.
Cox's Bay Reserve hosts many dog, child and art-friendly features, plus there's a magnificent boardwalk. Another gem is Kelmarna Gardens' nature trail – a self-guided path through managed organic gardens and paddocks, and linking with Cox's Creek Walkway. Grey Lynn Park is also close by, home of the fabulous annual Grey Lynn Park Festival.
Good education options
Local schools include Ponsonby Primary School, Richmond Road School and Ponsonby Intermediate School. For high school there's Western Springs College, St Paul's College, and St Mary's College, Auckland's oldest existing girls' secondary school and one of New Zealand's oldest schools. Opened by the Catholic Sisters of Mercy in 1850, alumni include many singers of international acclaim who studied under Dame Sister Mary Leo. Most notable are Dame Kiri Te Kawana, Mina Foley and Dame Malvina Major.
Ponsonby Auckland Architecture
The Ponsonby of today began developing in the 1980s. It was seemingly transformed overnight and elevated to its upper-middle class status by the 2000s.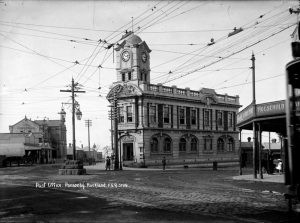 Ponsonby Road towards the Ponsonby Post office showing the three lamps at the intersection of Ponsonby Road, Jervois Road, St Mary's Bay Road and College Hill right 1915
Ponsonby locals are proud of their heritage, and old architecture has been retained and given new life. Architectural styles generously scattered around include minimalist and modern, Italianate, Gothic, Classical or Renaissance, from the Edwardian baroque style of the 1912 Ponsonby Post Office designed by John Campbell, to the Neoclassical architecture of the 1886 Ponsonby Baptist Church. Allendale House is a stunning two-storey villa with a distinctive turret of Italianate style dating from the 1890s, now lovingly refurbished with a modern annex added. Nowhere do styles collide more than in the characteristic Ponsonby villas. They line the streets, each immaculately restored with individual and modern flair. Originally designed by builders, the villas are pragmatic in approach, some sporting Gothic pointed windows teamed with Italianate arch-style windows. The results looked good, worked and, considering their popularity to this day, could be considered a successful example of a cultural mix!
Ponsonby has retained its artistic and independent edge, proudly doing without a suburban mall and instead giving patronage to boutique businesses.
Ponsonby's History
Pre-European Maori were busy and industrious in the area, though aren't recorded to have ever settled here. They gathered flax at Cox's Bay; camped, fished and traded in Freemans Bay (or Waiatarau), and relied on the various streams in the area for food and resources.
1800's settlement of European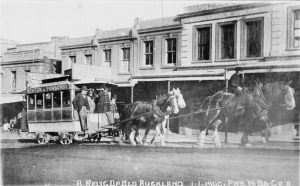 The Newton and Ponsonby Horse Bus, 1900. Sir George Grey Special Collections, Auckland Libraries.
The English arrived and took up residence, but College Hill was too steep for the horses and carriages that brought supplies from the city. Their preferred route was along Karangahape Road to Franklin Road via Ponsonby Road. The area was named Dedwood after a farm on Shelly Beach Road, but changed in 1873 to reflect the main arterial route, Ponsonby Road. By the 1880s, horse buses were able to climb up College Hill. Shops opened in Three Lamps to service the prosperous families of St Mary's and Herne Bays and the workers in cottages on College Hill and Grey Lynn. Thus the ridges of Ponsonby and Jervois Roads began their transformation from scrubland to a thriving village of middle-class enthusiasm that continued for several decades.
Ponsonby in the mid 1900's
Things changed in the 1950s and 60s. Ponsonby lost its affluent status and rents plummeted due to an economic downturn, the construction of the Freemans Bay motorway, suburban sprawl, and "slum" clearances by the council. By the 1970s, new communities had moved in and established themselves – Bohemian artists, reformed prisoners, gays and lesbians, Maori, Pakeha, Chinese, Indian, Polynesian migrant workers and their families. It was rough, but residents described it as a village – everyone knew each other and kids could kick a ball around the streets. The glory days for one of New Zealand's most infamous gig venues, the Gluepot, were also during this period. It closed in 1994 and its legendary status is a topic of its own. Safe to say, Ponsonby had a distinct culture that left an indelible mark. Life is very different here today, but the independent, vivacious, entrepreneurial spirit lives on.
Notable Ponsonby residents
Notable characters who have resided in Ponsonby over the years include bishops, brothel owners, prime ministers, activists, artists, performers, thinkers and dreamers. Prime ministers include Michael Joseph Savage, Peter Fraser, and Helen Clark – who flatted here with Judith Tizard.
The Ponsonby Community Centre has rooms named after two fabulously scandalous and notorious women of the past century – Flora MacKenzie and Freda Stark. Fighting for women's rights on another front was Amey Daldy, a significant member of the Suffrage Movement. Vogel's bread is enough of a New Zealand favourite to be personified, so it's included in this list. It was first produced at 120-128 Ponsonby Road, in a bakery established in the 1940s by German Jewish refugee and Doctor of Philosophy Max Reizenstein.
Things to do, Places to see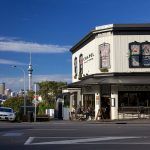 Chapel Bar & Bistro
Located in the very heart of the area, Chapel has established itself as Ponsonby Road's own 'local'. It is the perfect place for a bite to eat or an afternoon dink in the sun.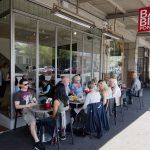 Bambina
Consistently good service, delicious food and great coffee ensures Bambina is always a firm favourite with the locals.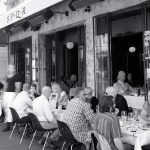 SPQR
Serving excellent Italian fare SPQR has been part of the Ponsonby fabric for over 20 years. Perfect for a long lunch and the place 'to be seen' or to watch Ponsonby go by.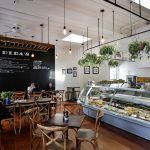 Dida's
Euro-style deli, offering a broad and enticing selection with lots of homegrown artisan products to complement the fantastic imported ones. Grab a sandwich or a salad and slide out the door, linger over a long black or sink into a tasty selection of tapas.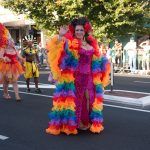 Pride Parade
The Pride Parade is the highlight of the Auckland Pride Festival and a spectacular showcase for the Rainbow Community.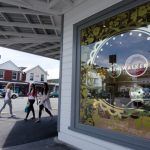 Karen Walker
With a fan base including Charlize Theron, Florence Welch and Rihanna, Karen Walkers fashion lives in the sweet spot where chic meets eccentric.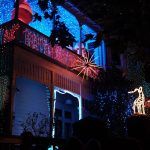 Franklin Rd. Christmas Lights
Once a year Franklin Road residents light up their street to create a magical Christmas setting. The lights are on every night until Christmas Eve from 6:30pm.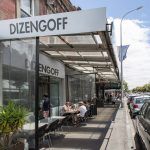 Dizengoff
A Ponsonby institution and favourite amongst locals and visitors alike that serves excellent coffee and food.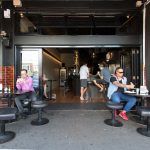 Fatimas
A Ponsonby road veteran that serves up Middle Eastern pitas and shawarmas.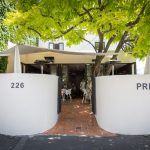 Prego
A local favourite that has been serving Ponsonby since 1986 with a focus on traditional Italian food. Dine in the courtyard, at the bar by the fire, or at the bistro-style tables inside.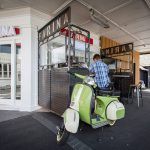 Farina
Designed and created for Sergio Maglione of the Formal Toto Restaurant and Legendary Toto Pizza by the metre, to show his genuine Italian Street food, homemade pasta and Napoletana Wood Fired Pizza.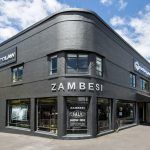 Zambesi
Founded by Elisabeth and Neville Findlay in 1979, Zambesi create unique and extremely well cut, wearable garments that capture attention with their clever detailing and are proudly New Zealand made.