St Mary's sparkles atop Auckland as our regal matriarch of the harbour, with a proud history and steadfast character.
St Marys Bay has stood the test of time as one of the city's most exclusive heritage suburbs.
St Mary's Bay History
One of the oldest and most historic parts of Auckland, St Marys Bay was founded in 1936 when Bishop Jean-Baptiste François Pompallier arrived from France and bought 47 acres of land on behalf of the Catholic Church. It was only fitting that New Zealand's first Marist Catholic bishop should name the area Mount St Mary.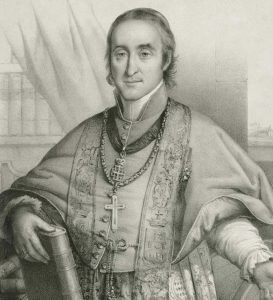 Bishop Jean Baptiste Francois Pompallier, 1807-1871. Sir George Grey Special Collections, Auckland Libraries.
The local community is passionate about their suburb and its heritage. Through their petitioning, the council has officially recognised the special character of St Marys Bay in several ways. In 1977, the workers' houses in Renall Street became Auckland's first conservation precinct; St Marys Bay is an area of special character in the City of Auckland District Plan Isthmus Section; and the plan also protects trees along the original cliff line and shoreline of St Marys Bay and Herne Bay, especially indigenous trees such as the coastal Pohutukawa.
Local dining options
While central Auckland and Ponsonby are right on the doorstep, neighbourhood eateries include Sails Restaurant in Westhaven – overlooking the boats and ideal for dinners and events. Or delectable by day is Mary's at 13 St Marys Road. Mollies boutique hotel deserves a mention for any out-of-town visitors looking for a truly luxurious stay.
Life in the bay provides the best of both worlds – close enough to the bustle to feel part of it, but far enough away to also be a calm and elegant haven.
Architecture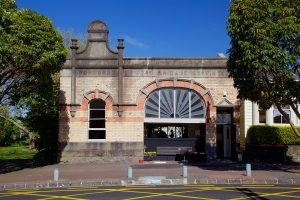 Pioneering architect Edward Mahoney was a prominent resident of St Marys Bay. He lived on Harbour Street and was a founding member of the Auckland Institute of Architects in 1880. He and sons Thomas and Robert designed in a Neo-Gothic style and many of their buildings, including St Mary's Convent, can still be seen today.
Continuing the Gothic style of the Victorian era is the Pompallier Diocesan Centre, which was completed in 1894. Designed by Peter and Paul Pugin, it was the residence of the bishop and was one of the first houses in Auckland to be lit by electricity. It still stands today in near-original condition (including the porcelain toilets).
Edwardian Baroque is another architectural style featuring in St Marys Bay, and several examples still stand. The original fire station on St Marys Road, designed by architects Goldsbro' & Wade and built in 1902, now houses Mary's café. The elegant Leys Institute, designed by Robert Martin Watt as a place to occupy youth and keep them off the street, was completed in 1905. And the 1912 former Post Office was designed by John Campbell.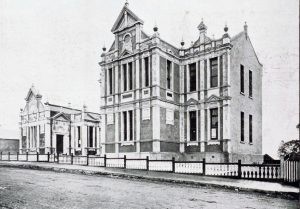 Leys Institute, designed by Robert Martin. 1905. Sir George Grey Special Collections, Auckland Libraries.
St Marys Bay History
Before the arrival of the bishop, Māori had several names for the area. The eastern end near Harbour Street is Te Papaku a Whai or 'Whai's Shoal', and the western end near St Marys Road and London Street was once a beach named Ko Takere Haea or 'the split canoe hull'. Ko Takere Haea is a listed Māori Heritage Site in the District Plan, as are several others including One-Maru at the base of the Point Erin cliff.
Europen settlement
The foreshore of St Marys Bay also played a central role for immigrant Europeans. Prosperous families settled in the area from the 1850s. Chosen for its stunning harbour views, they built elegant villas with extensive gardens overlooking the water. The only road access at the time was via Karangahape Road, as College Hill was too steep for a horse and carriage, so the homes were mainly accessible by water and private jetties connected the owners with the bottom of Queen Street.
The Catholic Church propelled the growth of the burgeoning suburb. From the mid-1850s it attracted immigrant Irish Roman Catholics who bought land to be close to the church centre. Their input is reflected in local street names like "Dublin" & "Green".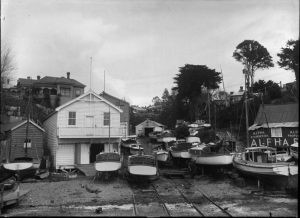 Boats and boatsheds in St Mary's Bay, Ponsonby. 1918. Sir George Grey Special Collections, Auckland Libraries.
Boat building and marine-related activities were the main occupation for early St Marys Bay settlers. The eastern end, together with Freemans Bay, was a thriving marine industry for many years. It was home to the Ponsonby Cruising Club, which was built in 1902, and became a focal point for the social and recreational lives of many families in Ponsonby and St Marys Bay.
In those days New Street reached the shoreline, and the beach at the western end was a popular swimming spot. It was also home to the West End Rowing Club – New Zealand's oldest sporting club, which now operates from Avondale.
A notable group of pioneering women from this time are The Sisters of Mercy. Enlisted by the bishop, they arrived in New Zealand from Ireland on 9 April 1850, some already fluent in Māori. They immediately set to work, establishing schools including St Mary's College, an orphanage and providing pastoral care in the community.
The foreshore has seen dramatic changes over the years. First, a sheltering breakwater was constructed due to cyclone damage, then by 1940 the area had been dredged, land reclaimed and a seawall built around Westhaven Drive.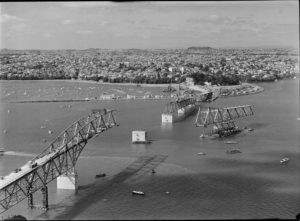 Auckland Harbour Bridge under construction. Whites Aviation Ltd: Photographs. Ref: WA-48833-G. Alexander Turnbull Library, Wellington, New Zealand
In 1956 work on the Harbour Bridge began, despite protest from locals who wished to keep St Marys Bay and Shelly Beach tidal. The bridge was officially opened in May 1959 and extended to four lanes between 1966 and 1969. Lack of access to the sea and threats by the Auckland Harbour Board to fill in Westhaven completely put local boat builders out of business. Yet this was not the end, as a group of local residents donated their professional services to create Westhaven Marina. Today this stands as one of Auckland's greatest assets.
Things to do, Places to see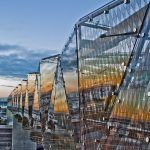 Jacob's Ladder Bridge
Originally used by cutters and whalers in the 1800s, Jacob's ladder and newly built bridge connects Westhaven Marina to the stairs leading up to the Saint Marys Bay suburb.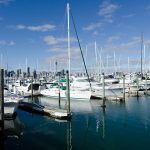 Westhaven Marina
One of the most idyllic places in Auckland to ride a bike, walk a dog, or picnic and home to several excellent cafes and restaurants.
Mary's Cafe
Located in Ponsonby's historic 1903 Fire Station, Mary's Cafe serves up unpretentious cafe classics cooked really well and excellent Allpress coffee. There's also a cabinet generously filled with sandwiches, muffins, cakes and slices made on the premises.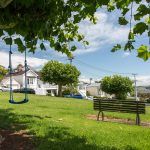 Selby Square
A pleasant oasis in the heart of St Marys Bay where locals meet and children play.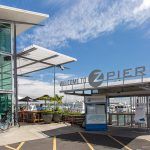 Z-Pier
Z-Pier in Westhaven Marina is the charter base for fishing trips to Auckland Harbour cruises, self drive boat hire, to party charters and dolphin watching.
Buoy Cafe
Located in one of the most coveted waterfront spots in Auckland. Call in for the fantastic coffee on your morning walk or sit outside, right on the water's edge, shaded by big white umbrellas and enjoy the delicious brunching options.