Life slows down in Westmere, with its family-friendly bungalows, sense of community, wide roads, and sea-skimming views.
At first glance, Westmere may appear to be a sleepy suburb, a bit off the beaten track, but at a deeper level, there's an appreciation of community and genuine social networks plus, borrowing from neighbouring Ponsonby, a growing appreciation of good food. Here's a quick peek into a quaint area that offers a real sense of home.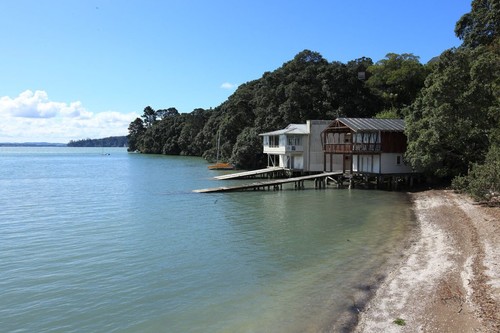 Food options in Westmere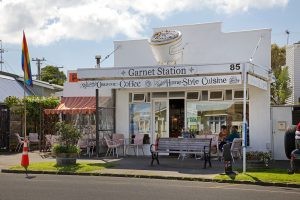 The Garnet Road shops set the scene, with stores, restaurants, cafés, and a wine shop. The renowned Westmere Butchery has stood the test of time, a sure sign of quality service. Though Ponsonby is around the corner, it's easy to enjoy being local with Westmere's own cafés and scenery. In particular, check out Catroux on West End Road and admire its impressive cabinet selection.
The parks and reserves of Westmere
Many nearby parks, playgrounds and reserves offer a taste of nature, and solace for busy families. Cox's Bay Reserve is shared between Westmere and Herne Bay. It consists of three parks – Hukanui Reserve, Bayfield Park, and Cox's Bay Park. A circular walk around the reserve takes about 70 minutes and features sculptures, a stunning new boardwalk through the mangrove swamps, Cox's Bay itself, mature trees, and bush. The reserve has community amenities like expansive sports fields, a cricket pitch, and children's playgrounds. Better still, the dog can come too and enjoy the specified off-leash exercise areas.
West End Lawn Tennis Club is a popular destination for tennis lovers of all abilities. The club has brought the local community together since its beginnings in 1932. With 500 members, it currently boasts one of the largest memberships in Auckland.
Things to do in Westmere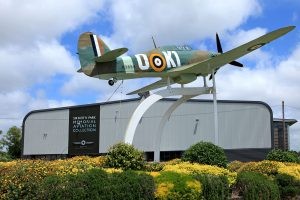 Westmere's footprint extends out through Cox's Bay. The bay is popular for water sports and protected from the west by the Meola Bay Reserve, a large volcanic reef. Cox's Bay is home to the Hawke Sea Scout Hall, arguably Westmere's most notable building. The hall had humble begins as a boat shed in 1928. Following several iterations, "The Ship", as it is locally known, is still used by the Sea Scouts. It can be rented out for events requiring a certain theatrical flair.
The surrounding areas further extend the activity list. Seddon Fields, Auckland Zoo, Motat, Western Springs Park and Meola Reef Reserve are all close by.
Education in Westmere
When not out exploring, there are plenty of schools to stretch the brains of the younger generations. Younger students can attend Westmere Primary School, which celebrated its 100th jubilee in 2014. The school's long history is backed by an excellent reputation, and it has been a drawcard for many families moving to Westmere. The decile 10 school is a focal point for the community, with school events bringing parents together and providing positive connections among families.
After primary school, children can attend Pasadena Intermediate School. For secondary schools there are Western Springs College, Avondale College, Mount Albert Grammar School, Marist College, St Mary's College (girls), St Peter's College and St Paul's College (boys). Some Westmere high school students travel to Northcote College on the North Shore.
Why wouldn't you choose Westmere?
Wider roads and a quieter suburban layout complete the equation, making the area an oasis for young families. Its close proximity to Ponsonby will also tempt those seeking to dip their toes into the hustle and bustle. Reliable homes are aplenty, and from the suburb's gentle slopes many homes enjoy vistas of the sea.
The long and short of it is that, no matter how busy life gets, arriving in Westmere will always feel like coming home.
History
Modern-day Westmere is bound by (in clockwise order) Cox's Bay, Herne Bay, Grey Lynn, Western Springs and Point Chevalier. The district's name and footprint are relatively recent, created in the 20th century. In the past, Westmere was always grouped with the surrounding areas, defined by creeks.
A place of spiritual importance to
Māori
Like most of Auckland the region was hotly contested, going back to Pre-European Māori. It was a place of spiritual and cultural importance for local iwi. Streams, mangroves, and wetlands provided bountiful food, flax and tools for industry. The last iwi to lay claim was led by Apihai Te Kawau in the early 1820s.
The area's water features made it particularly attractive. At the north end of Jervois Road was a flax processing area. Flax would be harvested from the wetlands in the Cox's Bay gully then processed into rope and other fibres for clothes and dried on the north-facing hill slopes of Herne Bay. Today it is known as Cox's Bay after European settlers John and Jane Cox, who planted market gardens downstream of Cox's Creek. The creek was first named Opoutukeha or Opou by Maori.
Cox's Bay Allotments
Westmere was part of the land which Māori gifted to the crown in 1841, in the hopes of forming a working partnership between the two entities. This area makes up the most of central Auckland today. It was auctioned off by the crown from 1844, mainly to speculators.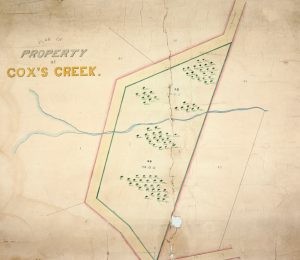 Allotments at Cox's Creek, Westmere Auckland 1869
It's hard to divide the histories of Grey Lynn and Westmere until later in the piece. There are varying stories as to when Westmere actually came about as a suburb. One version state that European settlers named the combined area of Westmere and Grey Lynn as the Newton District in 1841. Other reports claim that the Newton District went from Surrey Crescent to Eden Terrace, leaving Westmere unaccounted for.
Predating Westmere, a district called Richmond was marked in 1859 between Edgars and Cox's Creeks. The streets are those we know today as Regina, Kingsley, Livingstone, Webber and Edgars Roads. Despite this, some reports claim there were only six houses in the area during the 19th century. The wider area remained rural, with land leased for dairy farming.
Westmere's industrial begginings
Industry recognised the area's potential, and local streams played a significant role in development, despite protests from the fledgling residential population. A brick factory opened in 1860 and product was shipped to the city via the stream. Opou, or Cox's Creek, provided steam power and log transport for a sawmill below West End Road. This was set up in 1899 by the Cashmore brothers but burnt down in 1920. The site smouldered for a year. The creek was also used to float logs to the sites of some early houses.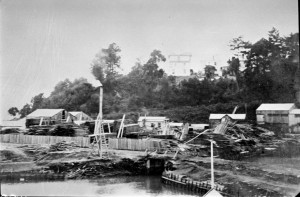 Cashmore Brothers sawmill in Cox's Creek Road, now West End Road, 1908. Sir George Grey Special Collections, Auckland Libraries.
The name Westmere first showed up on auction sheets at the start of the 20th century. Residential activity started in the 1920s courtesy of the Westmere Estate Company, which kicked off substantial housing development. New builds included some state housing, but mostly private housing in the characteristic Californian-style bungalow architecture. During this period of growth, the causeway was built to join the burgeoning Westmere to Herne Bay and the city.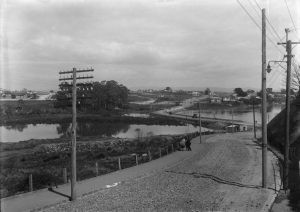 Looking west towards Westmere showing West End Road running over Cox's Creek,1926. Sir George Grey Special Collections, Auckland Libraries.
1950's Development of the suburb
Development slowed during the war but picked up again in the 1950s. During this time all the prime cliff-top sections were developed. The demographic of the area was mainly working class, drawn by the availability of the solid housing built in the previous decades.
Since then, the suburb has retained a family-friendly vibe, but enjoyed extensive redevelopment. Today's Westmere residents quietly revel in life's perfect balance involving socialising, family and community.